Still want DRESSES + BARE LEGS but it's FALL, almost...
Suddenly it got cold and I know most of us are still not ready for the chilly mornings, nippy evenings and layering up. I still want to be in DRESSES + BARE LEGS. Anyone with me here? Or are you just ready for it because you know, PSL is on the menu and it only makes sense to have it if you are dressed accordingly. While I still can…DRESSES + BARE LEGS are on repeat with blazers! Check out these 2 great, great DRESSES YOU must own because you're going to love them, and each is under $60!
Faux LEATHER DRESS: Faux is just the way to go! These days faux leather is looking better than ever giving it that real leather look. And here are more reasons why…
It's vegan so we like that and It's more inexpensive than real leather, of course.
You won't have to pay for a professional leather cleaner which can cost from $100 +.
When you're tired of it, you can donate it without feeling guilty for how much you bought it for.
But really, why this dress? It has pockets, bonus! ANYONE can wear it: it can be styled in so many different ways: dressed up and dressed down, it's a week-day into the weekend kind of shirt dress + you can wear it as a jacket (if wearing it as a dress is not your 'thing'.) Layer it up with some frilly long sleeves shirt and BAM, a whole different look!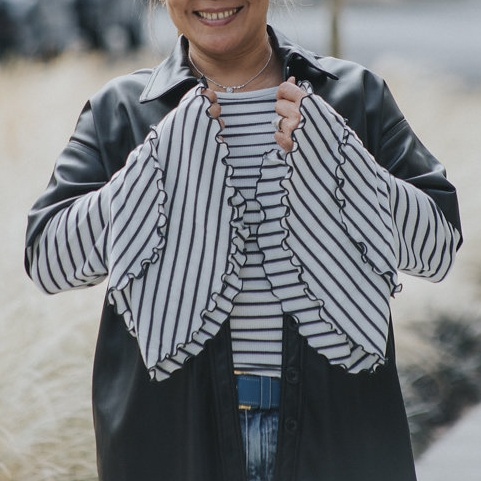 Styling tips: Wear with over the knee boots (by Dior) for work. For a bit of an urban look wear buttoned up with sock boots + a clutch. On to the weekend & if you are feeling like wearing it as a jacket, try with a frilly L/S shirt with jeans + loafer style slides.
PRINTED DRESS with LACE detail: This one, I can't tell you enough how versatile this piece is even dressed down with sneakers - love, love, love it! Looks from the office, to date night, to special occasion and on to weekend brunching. And just a note, come holidays this is perfect worn with knee high heel boots or with opaque tights + booties.
Styling Tips: For work wear it with a blazer & for footwear either with sock boots, booties or tall boots. For occasions, just on its own with a pair of your favorite heels - you can even wear a pop color of shoes if you're feeling bold. And my fave, just a relaxed chic look for meeting friends with sneakers + long blazer: this dress is so easy to mix prints with such as a stripe jacket.
*These dresses are styled with some old pieces I've own and some have sold out. In the "SHOP THE LOOK" I've given you some recommendations that are similar for you to purchase, just click on the image.
Alright friends, time to click the button & add to your shopping bag > head to SHOP THE LOOK on the side bar to order these DRESSES and more.
P.S. Did you know that BLAZERs are making a big come back this season? YES, get them out of your closets and start styling so you're ready for your next #ootd. It's not just worn for work, jeans + Converse make it hip!
Thanks for stopping by - Tschüss, xo
Photos by: Jenna Lynn Photography